Hitting the books from Brickworks Park
Most home buyers with little ones in tow will carefully consider options within the local school district before committing to a new neighbourhood. The quality of nearby schools is an important consideration that plays a vital role in the future of your child while also contributing to property values.
Located only 6km from Brisbane's CBD, Alderley is in a prime position for access to some of the city's most sought-after schooling options. From primary education to high school and even university, it's all within easy reach of Brickworks Park.
Schools within the catchment
Positioned within the immediate catchment zone of Brickworks Park for children from Prep to Year Six is Wilston State School, a highly sought-after institution located in Grange, only 1km from Brickworks Park. Established in 1920, the school features beautiful grounds with a mix of modern and heritage buildings and has an exceptional reputation for achieving outstanding results through its range of high-quality and inclusive academic, sporting and cultural programs.
Another alternative which also caters to older kids is Everton Park State High School for Year 7 to 12. The school's contemporary approach to learning offers students academic and vocational pathways to success, supported by individualised teaching support. Everton Park State High is also proud to achieve above state average results for Year 12.
Nearby private education
For families who prefer a more bespoke approach to education, Brickworks Park is close to a selection of reputable private schools including St Columbus Private School, a longstanding institution since 1917 which caters for students from Prep to Year 6. St Columbus Private School is known for its heavy emphasis on the teaching of numeracy and literacy, ensuring all children have the foundational knowledge preparing them for a wide scope of future learning.
For high school students, Hilbrook Anglican School is a co-educational establishment renowned for its inclusive and collaborative environment that fosters inquiry, innovation and creativity. The school is owned and run by teachers, parents and friends of Hillbrook which provides a strong basis for the strategic direction of the school and the education of its students.
Tertiary education only moments away
Located a mere 3.5km from Brickworks Park, short enough to stroll or ride, is the Queensland University of Technology's (QUT) Kelvin Grove Campus. A major Australian university with a global outlook, QUT offers an engaged and grounded approach to education and research is highly valued and trusted by employers, government and business. A sprawling campus which includes a fitness centre, shopping precincts, libraries and more, QUT is celebrated for providing real-world learning experiences and research solutions across a broad range of fields.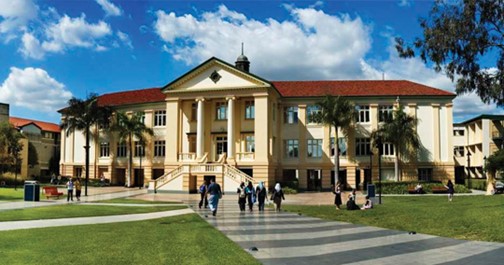 Learning at home
A recent report by ABC News confirms that thousands of Queensland families are ditching classrooms for home schooling, with a 54 per cent increase over five years and a recent surge being fuelled by a combination of the Covid-19 pandemic and natural disasters.
Brickworks Park offers residents flexibility when considering schooling from home, with spacious apartments and optional multipurpose rooms allowing for optimal home office set ups. Add to that community amenities such as peaceful parkland pockets, alfresco poolside seating and a combined art studio and workshop, and Brickworks Park is a reliable solution for those looking for versatility when it comes to home-based learning.
Kids on the move
While these schools and many more are all located within walking or riding distance, there will certainly be days when residents need to pursue alternative transport methods.
Alderley has been recognised for its exceptional connectivity in Domain's Liveable Brisbane study for more reasons than one. With Brickworks Park just a short walk from both Alderley and Newmarket train stations, getting to your chosen school or workplace has never been easier.
Future residents will also find regular bus services which frequently stop along nearby Enoggera Road, offering quick and reliable public transport options in all directions. You can plan your journey by bus or train at www.translink.com.au.
When travelling by car, there are multiple choices for getting in and out of Brickworks Park depending on your final destinations. Nearby major connections including Enoggera Road, Newmarket Road, Wilston Road, Days Road, South Pine Road, Samford Road, Banks Street, Ashgrove Avenue, Kedron Brook Road, Webster Road and Lutwyche Road.
To learn more about the location and lifestyle of Brisbane's number one suburb, Alderley, click here.