A new age in apartment design presents increased value for buyers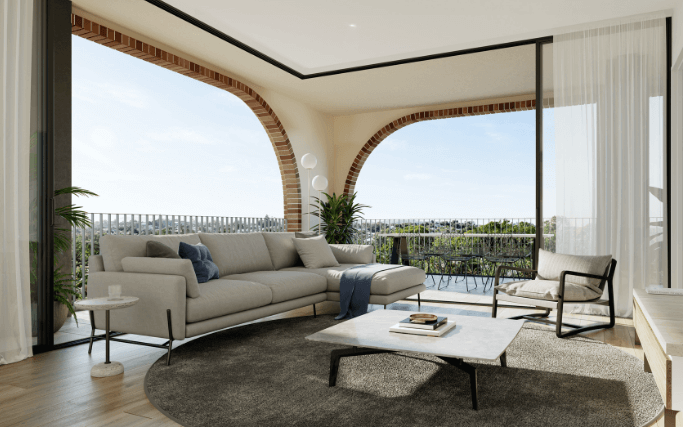 The price gap between houses and units needn't be a sour point for buyers, with Brickworks Park's apartment residences showcasing significant features at price points that substantially rival traditional home ownership.
A gap that is the widest on record as house prices continue to soar, the housing market is showing no signs of slowing down with an unprecedented growth of 1.2 per cent in November, with apartments tallying behind at 0.7 per cent.
With skyrocketing values making it harder for buyers to secure a house, demand for spacious and thoughtfully planned apartments that are set within comprehensive masterplans are increasingly on the rise.
This is backed by recent data from Corelogic which shows overall capital city apartment growth having increased 12.6 per cent this year – the strongest rise in values since 2010.
Substantially more affordable than buying a house and packaged with an abundance of exceptional resident-only amenities, apartments within Alderley's Brickworks Park are sought-after thanks to considerate floorplans that boast impressive space and contemporary designs.
With only a small number of residences remaining in Stage One, apartments at Brickworks Park showcase the latest in architectural innovation.
Main features include substantial internal floorspace which outshines traditional apartment offerings, open and breezy plans, picturesque outlooks, natural flow-through ventilation, and an impressive array of energy saving features that conserve on ongoing overheads.
Fusing style and comfort to form the ultimate residential sanctuary, the convenience and functionality of living at Brickworks Park doesn't stop at home design.
Brickworks Park has received accolades for its milestones in urban renewal, transforming an historic industrial site into the pinnacle of luxurious living within truly revitalised, green and nature-centric grounds.
Set across more than three hectares with 40 per cent dedicated to green open space, Brickworks Park also offers residents a private oasis in a low-density setting featuring pristine, sub-tropical gardens, an open-air Club House Lounge, pocket parks, sprawling resort-style pool, dog park, community garden, art and work space, fully-appointed gym and much more.
Located in the charming inner-city suburb of Alderley only 5km from the CBD, Brickworks Park represents a new opportunity for buyers looking to establish themselves within Brisbane's emerging property market.
Brickworks Park has experience outstanding demand, with only a limited number of apartments remaining in Stage One. Stage Two will be released soon and will feature a selection of two and three-bedroom apartment configurations.
To discuss your ideal Brickworks Park home, call the team on 1800 861 868 or register your details here.